In a dark suit jacket and tieless white shirt, Feyisa Lilesa walked into the ballroom of a Washington hotel and crossed his wrists above his head. Several Ethiopians present burst into spontaneous applause.
For them, exiled far from home, the marathon man became a hero last month when he made the same X gesture as he crossed the finish line to win silver at the Rio Olympics. It was an audacious protest on one of the world's biggest stages against the Ethiopian government's persecution of the Oromo ethnic group, at huge risk to himself and his family.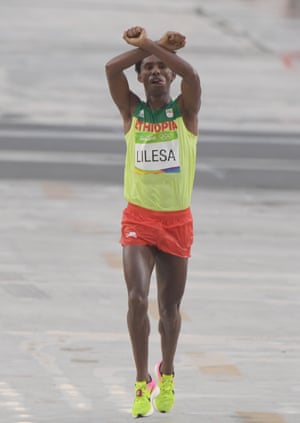 Facing certain jail if he returned home, Lilesa lay low in Brazil for three weeks and has now been granted a US special skills visa, allowing him to train and compete. But he has not seen his wife, five-year-old son and daughter, who is three, since 17 August, though they maintain regular contact.
"I don't want to look at my children any differently from the children of my country that are being killed," Lilesa, 26, told a press conference, in the US capital on Tuesday.
"They face the same fate and destiny as all other children in Ethiopia. I do have a concern for my family but what I'm thinking about today is not so much bringing them here, but change will come to Ethiopia so I can go home to my family," he said, through an interpreter
Lilesa follows in a long tradition of political protesters at sports events, with examples including the black power salute at the 1968 Olympics and San Francisco 49ersquarterback Colin Kaepernick refusing to stand during the national anthem in recent weeks. His use of the crossed wrists – used by anti-government protesters as a sign of peaceful resistance, and meant to symbolise being handcuffed by security forces – had been planned long before the race.
"I grew up witnessing the suffering of my people and this was not new to me," explained the son of farmers raised in a rural community. "But we have not seen what we are seeing now, with young children and pregnant women and elderly people being killed. The thing has got worse in the past nine months.
"As soon as the Ethiopian athletic federation selected me to go to Rio, I decided that I needed to train hard and I knew the people were dying but no one was seeing or hearing their suffering. So I decided three months before Rio, if I get good result, the media would be watching and the world would finally see and hear the cry of my people."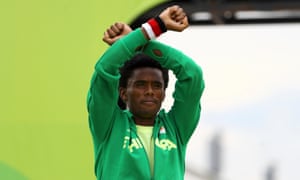 The strategy worked. Lilesa's gesture made headlines around the world and focused rare attention on human rights in Ethiopia, a US ally that hosted Barack Obama last year. But he knew there would be a heavy personal price to pay. Recalling the reaction of his compatriots in the Olympic village, he said: "The athletes cried. They sent me off with tears. I am not normally the kind of person who cries but they actually made me cry.
"The federation officials knew they would get in trouble if they spoke with me but they gave me certain signs and gestures. They presumably had concerns for their safety."
Lilesa stayed in a Rio hotel and expressed gratitude to the Brazilian authorities for guaranteeing his safety. He considered moving to Kenya but feared that it might deport him to Ethiopia. Instead, the US embassy in Brazil helped him secure a visa valid until January and he is likely to live in New Mexico or Arizona while he considers his options.
"I'm an athlete. I run long distances. Running has allowed me to travel. Beyond that it has allowed me to be the voice of my people. Running is life for me. It is also how I make a living so I look forward to continuing to race and pursue my dreams."
Lilesa insists he has no regrets, however. "I would have regretted it if I did not make my stand and show my protest because, when I was in Rio, there was a prison fire in Addis Ababa. People were burned to death including my close friend, Kebede Fayissa."
Ethiopia's authoritarian government has long been accused of human rights abuses. Oromos, the biggest ethnic group in the country, make up an estimated 40% of the population but few hold positions of power. As the government intensified the sale of Oromo land to foreign investors, protests began last November and gathered momentum. A security crackdown has seen hundreds killed and thousands arrested.
Lilesa, whose brother-in-law was arrested at demonstration nearly eight months ago, told reporters: "The Ethiopian government is killing, imprisoning and oppressing its own people. The situation in Oromia, Amhara and Gambella region is deeply concerning at the moment.
"I'm an Oromo, I grew up in Oromia, so I understand the suffering of my people very well. So far the government has opened fire on peaceful protesters who are asking for their rights and more than 1,000 people have been killed. Others have been forced into exile and been slaughtered in the deserts of Libya. Many more have become food for fish in the Mediterranean sea."
The athlete warned: "If this situation continues as it is, I have no doubt Ethiopia is staring into the abyss. You are going to see a great tragedy unless the international community intervenes and helps bring about change in that country.
"I am personally very fearful this is going to take an ethnic dimension. You are going to see a Rwanda-like scenario where ethnic groups turn on each other. It is important the international community understands the gravity of the situation and intervenes so we don't have to go there."
He urged Americans to lobby their government to pressure Ethiopia to respect international law. Last week, the US said it had raised "grave concerns" about the excessive use of force against protesters in Ethiopia and called for an independent investigation.
Lilesa said: "If there is a regime change in Ethiopia and the people's demands are answered and there is an opening, I will be going home the next day. It is only a matter of time before the power of the gun will turn to the regime itself."