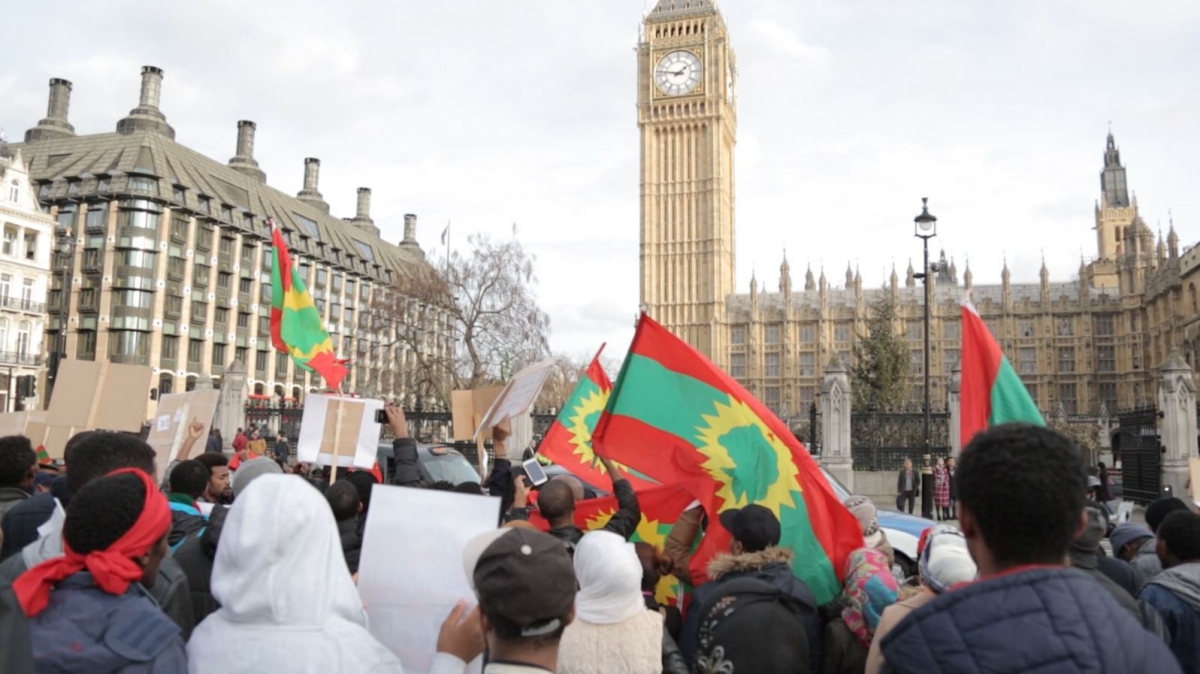 At least five people have been killed in recent protest in Ethiopia's Oromia state, the government has said, denying reports that dozens died. Protests erupted in November over fears of land grabs and forced evictions following the government's decision to expand the capital, Addis Ababa.
"So far we know that five people died," government spokesman Getachew Reda was quoted by AFP as saying. He added that the demonstrations were initially peaceful but escalated into violence.
"Now… they are terrorising the civilians and inciting ethnic groups against others — they even killed administration officials, even unarmed policemen," Reda said, alleging some protesters had weapons.
But activists said between 40 and 60 people have been killed since the protests started in November and denied demonstrations were ethnically motivated. Etana Habte Dinka, an author and PhD candidate at Soas University in London, told IBTimes UK: "The government is trying to label this huge Oromo movement as a inter-ethnic conflict.
"From our experience with the ruling coalition, the Ethiopian People's Revolutionary Democratic Front, this is a very old strategy and it causes inter-ethnic conflict within different groups in Ethiopia.
"We have reports of this happening in the Ameya Woreda district, where some Amara people were killed. But it was never designed by the Oromo protesters. The government's bloody crackdown has reached over 60 people so far, but we have only evidence of 40 people being killed at the moment."
Abiy Berhane, minister counsellor at the Embassy of Ethiopia in London, told IBTimes UK that the purpose of the Addis Ababa Integrated Master Plan was to ensure development continues in the areas adjacent to the capital.
However, Oromo activists claimed forced evictions allow authorities to build roads and infrastructures. As a result, Oromo people lose their livelihoods and become poor. Demonstrators also argued that forced evictions as well as a perceived marginalisation by the government threatens the survival of their culture and language.
Awol Kassim Allo, fellow in human rights at the London School of Economics, told IBTimes UK: "Although the plan is promoted by the government as a way to provide development into certain areas around the capital, it is rejected by most Oromos, who say this is an annexation plan in disguise.
"Land grab has been happening and over the past 10, 15 years more than 150,000 Oromo farmers have been evicted from the land around Addis. The master plan provides a positive framework for further intensification of evictions. This is why people have been protesting for the last month and day-by-day protests are getting more intense."
However, Berhane denied Oroms are being evicted. He said: "There has never been any eviction of the Oromo people from their farms. The purpose of the Addis Ababa Integrated Master Plan, which is said to be the subject of their protest, is to ensure that towns that are adjacent to Addis Ababa and located in Oromia region, benefit from development activities taking place in the capital city.
"These opposition groups have made it a habit to engage in a malicious campaign to tarnish the image of Ethiopia. Ethiopia is a federal state composed of more than 80 nations, nationalities and peoples, among which the Oromos feature prominently and contribute enormously for the socio-economic transformation currently taking place in the country."
Earlier in December, some reports alleged that at least seven Oromos were killed during protests against the Addis Ababa expansion plans. Oromia police confirmed three people were killed, defying them as "anti-peace forces".
In May 2014, at least 11 students were killed during demonstrations against the master plan. Protesters set fire to a bank, a petrol station and some government buildings, said the police, while the government denied protesters were killed.