Why did a group of South Sudanese people cross the border into western Ethiopia and start shooting mothers and abducting their children?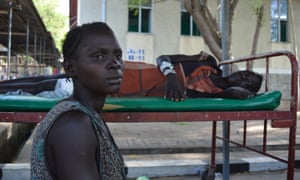 The South Sudanese attackers arrived on foot before dawn. In the Nuer villages in the grasslands of Gambella in western Ethiopia, people woke to the sound of gunshots and tried to flee, but armed men stopped them. Mothers were shot when they tried to stop the raiders taking their children.
Bol Choul, 26, tried to run away but one of the attackers caught him in his hut and they fought. Bol injured his hand but managed to get out. He had to leave without his wife and children, and his blind father, who was shot but survived.
"I heard my wife's alive, but one child is taken and one is with her," Bol said at the main hospital in Gambella region two days after the attacks in the Lare and Jikawo districts.
More than 200 people were killed in the attacks on more than 20 villages, according to Ethiopia's government. About 100 children were abducted, and livestock was snatched as well.
Unicef said the attack on children constituted a violation of human rights, and condemned "this horrific act of unbridled violence".
Described by locals as the worst violence they had seen in two decades, the cross-border attacks pose a new challenge to the Ethiopian government, already grappling with growing tensions between central authorities and ethnic populations.
Ethiopia's ability to respond is hampered by difficult terrain and the weakness of the state in South Sudan, where a peace deal intended to end years of war hangs in the balance as rebel leader and former deputy president Riek Machar delays his much-heralded return to the capital Juba, originally scheduled for Monday.
The assailants who crossed the border last week were probably Murle, a mainly cattle-herding ethnic group of perhaps 200,000 people that primarily live 150-200km from Gambella in the Pibor area of South Sudan's troubled Jonglei region.
Gambella, a sparsely populated region of dense scrub and swamps borderingSouth Sudan, has long been marked by sporadic violence.
But the scale, organisation and brutality of last week's attack had more in keeping with atrocities committed in South Sudan, where war has turned chronic underdevelopment into a humanitarian crisis. The UN estimates that 5.1 million people need assistance this year out of a population of 12 million.
Of the approximately 80 injured people who arrived at Gambella town's hospital, more than 50 were women, said staff. A few Nuer community militia members with guns retaliated, killing some attackers, who wore unmarked military uniforms and carried modern Kalashnikov rifles, according to survivors.
South Sudan's militarisation, maladministration and rampant disorder (pdf), combined with recent clashes in Gambella between the Nuer and the Anuak communities, may have contributed to the brutality of the attack.
The massacre marks a new challenge for Ethiopian authorities in Gambella after unsuccessful development policies and an influx of Nuer refugees from South Sudan compounded the area's problems.
Previously a majority in the region, the sedentary Anuak feel threatened by the arrival of pastoralist Nuer on what they consider to be their land. Many Anuakwere angered by a government resettlement plan that began in 2010 and clustered them into expanded villages near roads.
While Ethiopian officials said this was done to make public services more efficient, opponents claimed thousands were forced off their land to make way for agricultural investments.
Anuak discontent was exacerbated by the arrival of more than 250,000 Nuer tonew refugee camps, starting after South Sudan's government imploded in December 2013 when the ruling party fractured and up to 70% of the military rebelled.
Tensions between the Anuak and Nuer exploded in February, with dozens killed and clashes even involving members of the Regional Special Police fighting among themselves, along the same ethnic lines.
Subsequently, all those forces were withdrawn to Ethiopia's capital, Addis Ababa, for training – even from parts of the state, such as the locations of last week's Murle raid, where they had not clashed, according to an aid worker, victims and a local security official.
Their removal followed disarmament of the Nuer over previous years, said Gatwich Tok, 26, who was in one of the villages attacked last week. "The government of Ethiopia does not allow communities to have guns," he said.
Ethiopia said it is prepared to pursue the raiders into South Sudan and rescue the kidnapped children. But a local security official said bilateral negotiations were the way forward.
"We cannot cross the border … these people are criminals and we do not do the same criminal acts as them," he said, requesting anonymity.
Improving border security through dialogue or a joint military operation with South Sudan may prove tricky. Before the latest bout of civil war, Jonglei state was already one of the most violent in the country (pdf), partly because of clashes linked to cattle raiding.
Further complicating the political situation is a contested October decree by President Salva Kiir to increase the number of states in South Sudan from 10 to 28. That decision has already reportedly led to fresh conflict in Murle areas.