Ethiopian runners narrowly missed a sweep of prize-money races at the 34th Edition of the Ottawa Race Weekend, the largest running event in Canada.
Deriba Merga easily beat other male competitors in the feature Ottawa 10K on Saturday, but lost to Dire Tune in a gender competition in which elite women were given a three-minute, 44-second (3:44) head start. Both received $6,000 for winning their respective divisions, with Tune claiming the $4,000 bonus of the gender challenge.
Merga, the 2009 Boston Marathon winner, was on world-record pace through four kilometers but moderated somewhat in the latter stages to finish in 28:30. Tune, the 2008 marathon winner in Boston, fended-off his approach by running 31:43.
Ethiopian women accomplished a 1-2-3 sweep in the Ottawa Marathon on Sunday, while Ethiopian Dereje Abera Ali finished less than a second behind winner Laban Moiben of Kenya in the men's field.
Ali later said he could have overtaken Moiben had he not paused at a chip-timing mat extended across the roadway some 50 yards from the finish line.
"I thought that was the finish line," he said of the mat, shaking his head in disappointment after viewing a video replay of the marathon finish. Moiben's winning time was 2:10:17.9;.Ali finished in 2:10:18:8. Dino Sefir Kemal of Ethiopia was third in 2:10:57.5.
Kebebush Haile Lema won the women's division of the marathon in 2:32:14, followed by Biruktawit Eshetu Degefa in 2:33:14 and Radiya Adilo Roba in 2:36:58. Lema received a $20,000 payout, with Degefa garnering $12,000 as the runner-up and Roba taking $10,000 for finishing third.
Most of the event's drama occurred Saturday evening, when the stars came out amid threatening skies and humid conditions that neutralized a new course intended to produce fast times.
Merga had run 27:24 in 2009 to win and set a record over the old course. Last year he finished third in 28:41 to his designated pacemaker, Lelisa Desisa, and Moroccan Mohamed El Hachimi.
This year Merga was the lone Ethiopian elite male in the 10K field, and he had little competition in mostly running alone and beginning to overtake elite women just beyond five kilometers.
Tune ran an evenly paced race and gradually separated from the women's elite field that included 2004 Olympian Ejegayehu Dibaba, who finished third in 32:57. Second was Samira Raif of Morocco in 32:47.
Ethiopia claimed four of the top six women's 10K spots, with Aziza Aliyu finishing fifth in 33:50 and Alemtsehay Misganaw running 33:57 for sixth-place.
Tune was the lone star at the post-race news conference, as Merga demurred.
"I am very happy I beat the guys," said Tune. "I really thought they would catch up to me. Somehow, I beat them."
It was the second time in as many years Tune finished ahead of the top-male.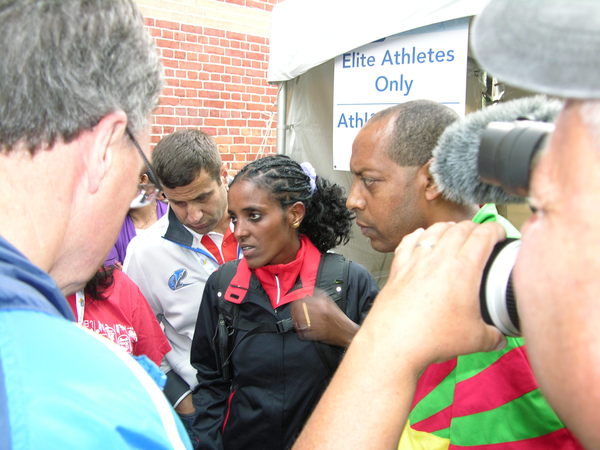 Dire Tune, flanked by her manager and an interpreter, gives post-race interviews.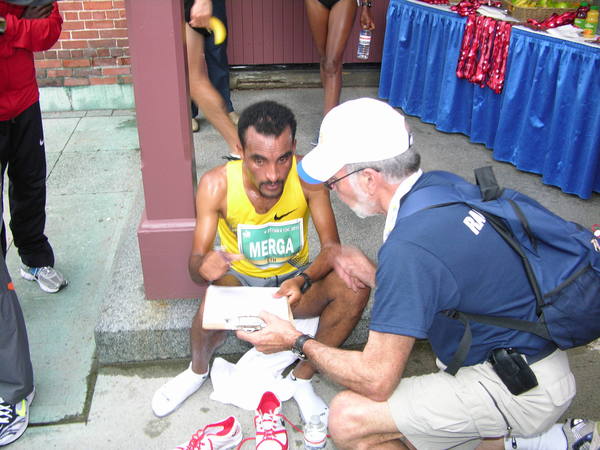 Deriba Merga signs USADA doping control (drug test) documents, declining post-race interviews.
Merga Mourns His "Best Friend," Kenya's Wanjiru
Meanwhile, a dejected Merga declined interviews. For nearly 30 minutes after the race he sat with his head in his hands on a concrete slab in the designated elite runners' area just off the finish line.
When asked what went wrong, Merga said he "expected to catch her" but the humidity made the race tough. The winner of the 10k, but loser of a race-within-the-race, Merga added he may have started too fast.
The next morning at brunch in the hotel that housed elite runners, Merga noted that he has been carrying a lot on his mind the past two weeks.
"Since Wanjiru died, I have been very saddened," he said, speaking of the late Samuel Wanjiru of Kenya, a runner with whom Merga shared a 2008 Olympic Marathon stage that thrust both into the international spotlight. "He was my best friend, and I miss him. My sympathies go to his wife, mother and children."
Wanjiru died May 15 in an apparent fall from the balcony of his home in Nayahururu, Kenya following a domestic dispute. Police are continuing an investigation into his death.
The Kenyan prevailed in a captivating, two-man battle with Merga through the streets of Beijing and in front of a worldwide TV audience during the event that cemented the bond between them. Wanjiru won Kenya's first Olympic marathon gold medal that day, while Merga paid for his intense surges with and against his new friend and faded to a fourth-place finish that kept him off the podium at the medals presentation.
The morning after beginning the Ottawa 10K at world-record pace, Merga only smiled when asked if he had been thinking of his late friend.
"We have the same style," he said of starting races fast, and doing periodic surges in an effort to break other runners. "He was a good, disciplined athlete. He was very tough.
"After he died, for two days I cried," said Merga, reflecting a deep respect between the two runners despite the fierce rivalry of their nations in athletics. "I did not eat. I did not train. I still cry."
–
Here are more post-race photos from Ottawa.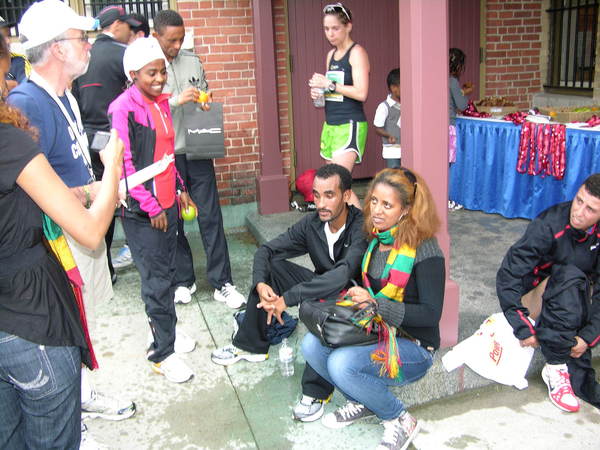 Merga acknowledges support from Radiya Adilo Roba, left with head covering, who finished third in
the marathon Sunday, as local fans take photos with the silent winner and other runners look on.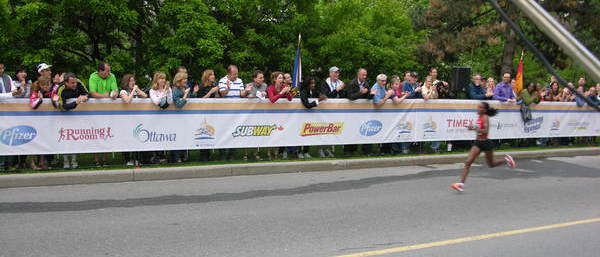 Dire Tune approaches the finish line.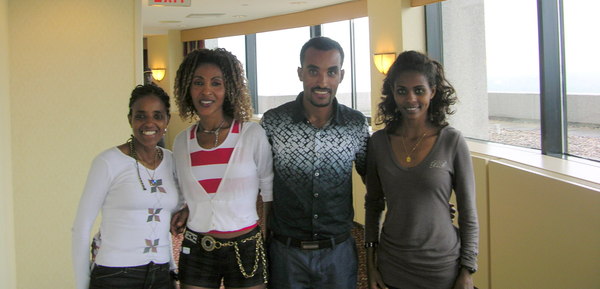 Dire Tune, Alemtsehay Misganaw, Deriba Merga and Ejegayehu Dibaba, the morning after doing battle
in the ottawa 10K.
Source:Athletics Foundation